DEPRESSION: Seek help
Winston Churchill referred to his depression as his "black dog". Today you can learn about this mood disorder through resources from the BLACK DOG INSTITUTE. See
Everyone feels a bit low at times. For example, having a bad day at work can affect one's mood. Generally we "bounce back" and move on. People with depression do not have that ability to bounce back and can become overwhelmed by pessimism, anxiety, irritability, anger and guilt. They cannot function normally at home or work.
The most severe depression is called a"major depressive episode". This involves being extremely depressed for at least two weeks. Some of the symptoms are as follows:
* feeling depressed (sad or empty) most of the day, nearly every day
*loss of interest or pleasure in all activities most of the day, nearly every day
*reduced motivation
*significant weight loss
*decrease or increase in appetite nearly every day.
* insomnia nearly every day
*fatigue nearly every day
*agitation or feelings of being slowed down
*feelings of worthlessness every day
*difficulties with concentration and memory
*indecisivenes
*lowered ability to control emotions such as anger, anxiety and pessimism
*thoughts about suicide
IF YOU THINK YOU MAY HAVE DEPRESSION SEEK THE ADVICE OF A MEDICAL PRACTITIONER. A GOOD PLACE TO START IN GETTING HELP IS TO VISIT YOUR GENERAL PRACTITIONER (GP).
IF YOU ARE FEELING SUICIDAL IT IS VERY IMPORTANT TO SEEK HELP IMMEDIATELY, preferably from a mental health practitioner.
A 24/7 emergency telephone number is Lifeline. Call 13 11 14
YOU ARE NOT ALONE…seek help for your depression.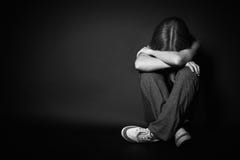 According to Paul Gilbert, the key symptom of depression is "anhedonia" derived from the ancient Greek meaning "without pleasure"; it means the loss of capacity to experience any pleasure.
Paul Gilbert (2000) "Overcoming Depression: A self-help guide using cognitive behavioral techniques" Robinson, London.